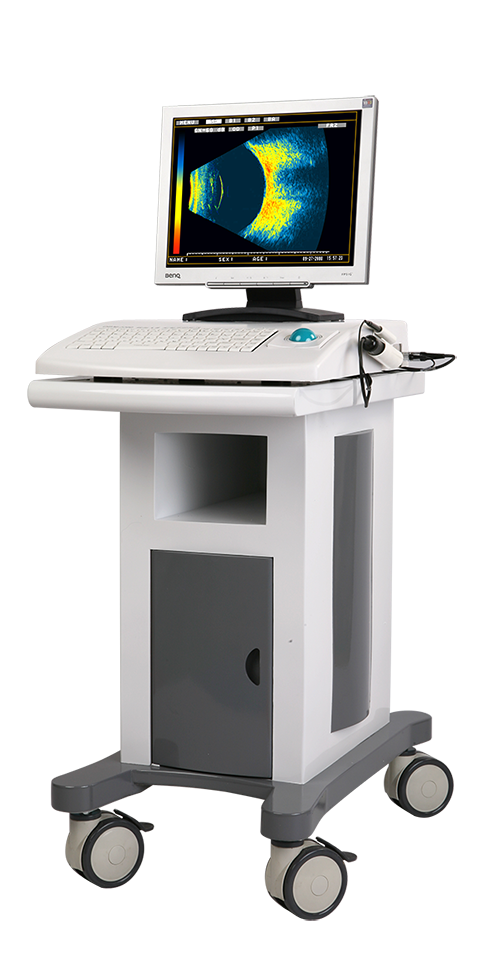 Features



---
● 8 Color Modes
● High Resolution Images
● Operating Modes: B, B+A, B+B and A
● 8-Image Memory
● 5 Sections Adjustable TGC
● Cineloop for 5.6 seconds
● Manual Correction of Axial Measurement under A-mode
● Multi-groups of Calipers for Distance Measurement
● Measuring Mode: Contact & Immersion
● 8 Groups of Reading Average with Standard Deviation under A-mode
● High Definition LCD Monitor
● B-Probe Protection: Automatic Stop after 10 minutes of Continuous Scanning
● Trackball for Easy Measurement and Operation
● Optional Image Output: Video Printer or Workstation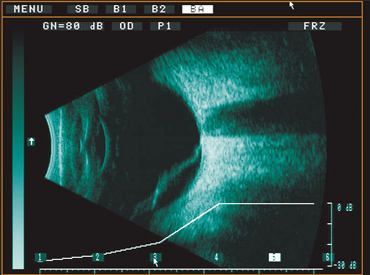 TGC
TGC (Time Gain Control)
enhances segmental imaging gain.
5-segment TGC adjustable within range from -30dB to 0dB.
Applicable default and customized settings.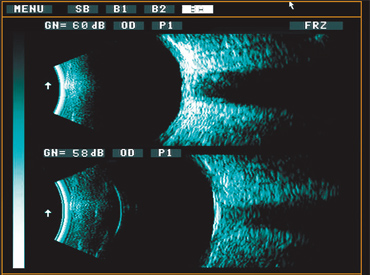 B+B
Dual-B mode enables
image/video review and comparison.
Dedicated for omni-dimensional
ocular disease observation.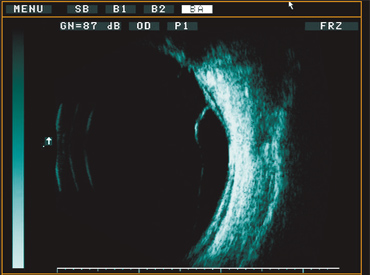 ZOOM AND DELAY
Enlarge diagnostic images by different zooming levels.
6 zooming rates adjustable.
Diagnostic image shifting
from posterior segment to anterior segment.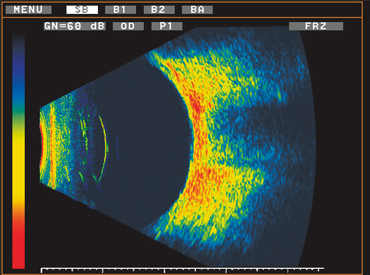 POWERFUL POST-PROCESSING
Distance and area measurement.
Simultaneous display of multiple groups of
distance and area reading.
Freezing diagnostic images storage & dynamic cine review.
8 different color codes.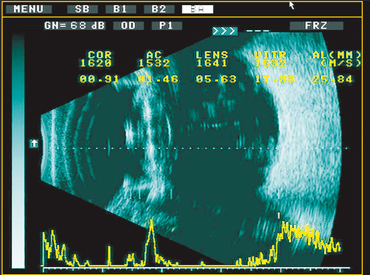 FIVE-POINT MEASUREMENT
Innovative AL measurement method under A+B mode.
Combine biometric measurement with ocular image display.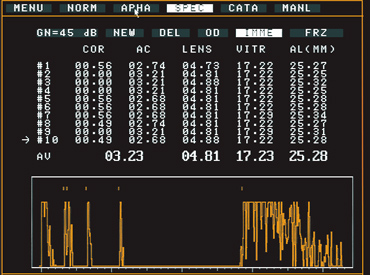 AL & IOL
Integration of AL measurement and IOL calculation.
Diagnostic solution for cataract surgery.
Reading averaging and standard deviation
improve reading accuracy and reliability.
Contact & Immersion measuring methods.
4 automatic measuring modes:
Normal, Cataract, Aphakic and Special.
Manual measuring also available.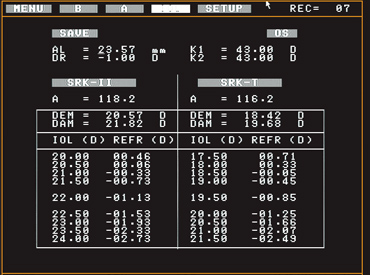 IOL CALCULATION
6 popular IOL formulae:
SRK-T, SRK-II, BINKHOST-II,
HOLLADAY, HOFFER-Q and HAIGIS
Dual-formula display for result comparison.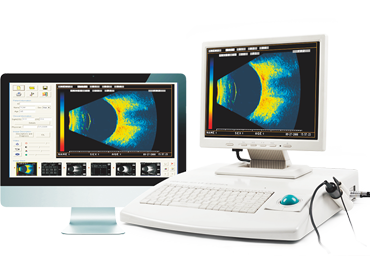 PC CONNECTION
Patient management system enables
massive patient case study and storage
and assists to generate
customized clinical report and printing.
Clinical Galler

Accessories

Options

B-Scan
Display Mode: B, B+B, B+A, A
Probe Frequency: 10MHz
Scanning Method: Mechanical sector scan
Resolution: Axial≤0.2mm, Lateral≤0.4mm
Gain: 0-98dB adjustable
Zoom: 34mm - 60mm, 6 steps selectable
TGC: -30dB - 0dB dynamic, 6 Points manually adjustable
Variable Delay Depth: 0-15 mm
Post Processing: 4 groups of curves (Linear, Logarithmic, Exponential, S-curve)
Distance & Area Measurement
Dynamic Replay: for 5.6 seconds
56 images displayed continually or separately
Probe Hibernation: over 10 minutes
Gray Scale: 256 levels
---
A-Scan
Probe: 10MHz with Fixation Red Light
Resolution: 0.01mm
Biometry Accuracy: ≤±0.06mm
Gain: ≥98dB with an adjustable range of 0-55dB
Measuring Range: 15-39mm
Measuring Parameters: Anterior Chamber Depth, Lens Thickness, Vitreous Length and Axial Length
Measuring Method: Immersion and Contact
5 Different Measuring Modes: Automatic (Normal, Dense Cataract, Aphakic and Special); Manual
Calculation of 8 groups' average with Standard Deviation (S.D)
IOL Formula: SRK-T, SRK-II. BINKHOST- II. HOLLADAY, HOFFER-Q and HAIGIS
---
Standard Configuration
ODM-2200 Ultrasonic A/B Scanner
10MHz B Probe
10MHz A Probe
Foot Switch
Test Object
---
Other
Power Supply: AC 100-240V, 50/60Hz
Weight: 6Kg Without LCD Screen
Dimension: 460 x 420 x 80 mm